So, is the pulled pork on the grill, current as at 06:00: 106° Grill temperature / 18° core temperature. Normally should or could you lie down again, but since the child before an hour again mat is available on the, I pass on it and use the quiet time for a new blog article here (I'm still a Fox sometimes ;-)).
Because the my first PP is and I have no experience, am I excited already something. But with an average cooking time by approx. 10-12 I have hours, just enough time to worry about me 😉
We have yesterday placed the meat together with a spice blend and then stored in the refrigerator. Tonight, so so ago approx. 5 hours I took out then it, so that's about room temperature. It had 17° now, and you can believe me, here no room at any time is so cold! 🙂
And as I said there is now only one long wait, the spare gas bottle stands in the corner, the MOP sauce is done, all other sleep–> runs, I'd say 😉
This is the view into the future, however I would like to venture even a small review at this point, for all those who read and are perhaps interested. I do time times in the recent past, because in the last 4 days, I was completely empty cleaning our study room so that also our second child can have a private nursery. It's now quite unspectacular, and unfortunately probably even our close relationship can not assess how much work was that, because we never have someone in the room let in, because it primarily served as a "Drop". So, there was no large order.
Perhaps at this point times a few characteristics: we had partially filled 4 bookcases, in double row. 2 cabinets with folders and various "odds and ends", a desk that went around a corner and took about half of the area of the room and on the floor, then various bags, book cartons and other odds and ends, which was parked just always in the room. We have separated by many books, most however have we packed into cartons (12 units) and transported to the cellar. Oh, that I had almost forgotten the games. Before Timo was born, we were part of the absolute game children and had accordingly many board games, on the bookshelves, and on a separate IKEA shelf. Also again 2 1/2 large moving boxes were full, which disappeared in the basement. 🙂
Did I mention that the room is now completely empty? 😉
So, and now here no longer am I boring you with our "waste", but let's start at the beginning of this year. Since my stem cell donation first I remember. It was a moving event for me, because I have less on the hat rather Yes for well-known reasons with needles and syringes.
In March, had Timo his 2nd birthday, there was then given to the impeller (madness, if you consider there is a Kettcar now for Christmas).
Easter there was only "small things" that fortunately, but the search was already firmly established in his brain. Because when you next visit with the grandparents Timo said in various places: "Da, eggs" 🙂 Has he at least remembered where he was looking for.
Oh, because I would have but almost forgotten man still Carnival. Tini has powerful lay in the stuff and full of cool Fred Feuerstein us sewn costumes, as not only the child had fun:
The nights were all year about not so special. I think those who slept through the child, I can count on one hand. There was some morning first further peek at:
In may, then visit with Uncle Totti, in the important man talks carried 😉
Skipped and jumped:
Oh and wedding celebrated also:
And the uncle Sepp makes popular ice feeding:

Then it was already fairly hot this year, if I follow the details of the image, it was so warm that our child has no desire to dress more in may:
Since we had to represent together naturally certain contrast using our coolness :-):
Or with grapes on MOM's cool down lap: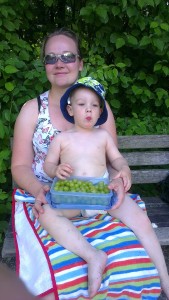 OK, there was of course also rainy days. But Timo is also optimally equipped:
In June then followed our joint family holidays, there are countless beautiful images that are clearly beyond the scope here. A selection of me hard really, so here are just a few:

Various zoo visits on the programme, including in Duisburg in the delicacy this year were of course: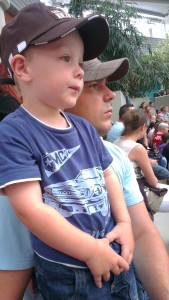 Petting zoos are of course very popular within the large zoos:
It was followed by more Weddings:
And of course Timo's first holiday in a mobile home, that was by the way correctly. Even though it has torn us adults health pretty at the end.
As a small rock star was Timo also still on the road and has, as you can see directly the technicians at his side: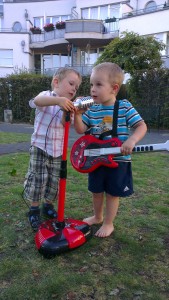 And finally a few images in loose order, in which Timo really made me smile:
Oh yeah, Timo's first cinema visit also this year was. We have put together "the little Raven sock" looked, a film that really liked me as a children's film. Timo also. And popcorn he has plastered all alone the bag (good, that we had taken just a little):
So, that it once was. Timo is awake, tini is still sleeping and I slowly get hungry. Also, I was no longer looking to the pulled pork. I wish all readers a happy new year and a great start into the new year!