Yes, I know it's already Wednesday. But we came back again only yesterday and today I have finally a little time to write (parental leave, don't ask!) 😉
As some of you know, we were at the weekend on Lake Constance to the "summer scrap secret Santa". The idea behind this is: the normal to transfer scrap secret Santa, just before Christmas in a time where one is generally much more relaxed, as in the run-up to Christmas. As we "old-timers" are now scattered across Germany, Additionally the idea came up to meet every year at someone else. Both ideas sound very well and the implementation was even better. 🙂
It has just been fun to spend some more time with friends from the "old days". We had at that time real to do much and saw us almost daily, this was becoming less and less with the spatial distance, which more and more came between us. From a simple "just passing" will put more than 400 km just to the small world travel, especially, when you have Yes now even 2 children in the luggage. Somehow you is restricted more with children, Yes to a lot of mobility, when one wants to actually admit.
It was all the more important that also brought other children, you know that parents in the Pack are just much more relaxed 😉
Is also somehow logical: children play (in the best case even with each other) and the parents may feel alone the "Is that whatever you" discussions give, what has resulted in that the ancient saying: "Shared sorrow is half a sorrow" can unfold its full effect.
So, back to our trip. The Lake Constance region is really nice. OK, wanted to live I is not necessarily there to rural me, but spend holiday there is really fun. Also for children there is plenty of activities. We have used those 3:
Yes, read correctly. A whole mountain full of monkeys. Full well not really, but fenced and "fütterbar". You get a handful of popcorn at the entrance and can then feed this to the free-range monkeys. A great fun for big and small. A little courage do you probably need, if you the horror calls of our female passengers correctly suggests. But children in General don't fear Yes almost anything, if it is smaller than themselves. 🙂
How it looks:
This is a farm, so how it turns out for me, keep growing, and on the now all possible animals reside, that have 2 or 4 legs and somehow fit into a stable 😉
First I was some confused whether the relatively high ticket price, however, I must say in hindsight that this was really justified. Only the diversity of species put loose smaller zoos in the Pocket. By goats, about rabbits and monkeys and porcupines, everything was there actually, what children can "Watch" good and of course feed. The large area is repeatedly by smaller equipment for children "interrupted", so that these will not be bored even at longer distances. A station was equipped with "Musical instruments". Our large took directly once the two "clapper" and got hammered like mad on the makeshift xylophone and Visual fun: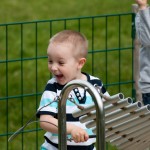 3. SeaLife Konstanz:
We had the Sealife already long on the plan. There is also one in our neighborhood in Oberhausen, but intimidated by the weather we had decided to visit the Sealife Konstanz, so that we get a few hours of the rain day. And we are almost at the bottom line: after an hour "got through" and I had thread smacks somehow, that one might expect many admission but probably a little bit more for that. Basically everything was beautifully constructed and also with the pushchair halfway passable, however for €24 entrance for 2 adults should the entertainment but please longer than an hour. I kept telling myself just the rest of the day, that we support many of the really great relief of Sealife with our visit, which helped then something 😉
We were lucky still, the weather held and it was not raining. We looked at then us in peace of Constance, which by the way is a really nice town, and in which we a little have recognized the Düsseldorf schmancy hype again 😉
Back and forth we went by the way with the ship, a true highlight for our great. Which made me with the same questions again and again, but it's also damn difficult child as simple but obvious to explain that propellers must now be under water and therefore cannot be seen are 😉
The return to the Rhineland was somehow 50km more than calculated at the starting point of the Navi, but we almost never stood in a traffic jam and were always on the highway. 🙂