That snuck around Yes forever me as an idea in the head, to make a canoe trip with my son. Schwiegerpapa submitts Yes years ago even an inflatable dinghy to us, with which we are driven only once because of lack of time. Somehow this experience has established itself but in my brain and I painted out already I, that must be how great, to make such a discovery trip with your own child. Timo was still quite small in there and I thought to myself "one day…".
Well, the parental decision to implement this strengthened and as I read the tweet here:
Took a day-long time with the son alone to adventures. Inflatable boat tour. Great fun. Tan…

-Dad rocks (@rocktpapa) July 21, 2013
all dams broke and the outdoor fever grabbed me. Wait just a weather that didn't send me during inflation of the canoe in a heat coma, then you can get started. And it was just today. We are in the morning still in a shop for boat needs (they say that so?) driven and Timo bought a life jacket (safety first). And the cooling thunderstorm came during his naptime, so we directly could go then.
Then it was said once "pump":
Timo tried out the pipe in the meantime on his new life jacket (so that you really hear him if he goes overboard ;-)):
Then it finally happened: paddle up and "Go!"
Seating positions are taking, fold up the backrest and repel: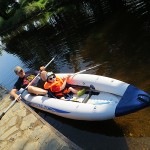 As you can see, we hang back a little down that something was when I drove with Tala, at that time different: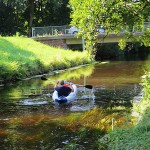 On the other hand, it works from the front a little bit like the Navy seals:
I must see if there is the West still in camouflage, so that seems more authentic something 😉
In any case, it was huge fun even if Timo was in the meantime really completely mute and I thought he would be asleep. After I showed him how the boat turns when he holds his paddle right into the water, he was back up. 🙂
However, the brakes were the only annoying on the road. You have almost perforated back me and attacked me even more on the jetty, and caught in the leg! Luckily Timo was wearing a vest and has not to sweat so that he was spared by the creatures. What do you do everything for there child, is also like a bait the beasts 😉