We have Yes this year for 2 large blocks of holiday decided (if you can call this a self decision, if you must take into account closing times of kindergartens).  Our current block has beat us 3 days to Berlin and then moved for a few days at the Baltic Sea. Because we have a bike trailer we have bought yet a further roof rack before the start to the holiday so that Timo can ride his own bike. The trailer turned out to be quite handy, because in the spunky capital we could use directly as a buggy, with the advantage that even 2 children into care, even though Mika had to be persuaded once. Somehow he wanted in the trailer, but also will not run. We should always carry it, but we have can pull quite quickly the tooth it 🙂
Timo went so confidently with the bike through the city, that we parents pride almost burst. After all we have read a sign at the one way in urban traffic on the stand that you should watch on his distance because there every 2 hours a bicycle accident in Berlin are (something no longer a dad from the head when is is squeezes the entire family by bicycle through the city traffic).
We met then with friends, which we once met years ago on vacation and getting young almost at the same time as we. Accordingly long ago it was, the last time we met. We have Timo before, we visit 2 girls and he said directly "with girls I don't play but!" said however the 4 have played then super together that we struggled to move the boys to leave. Mika was very fascinated by the two toy horses and has them groomed all the time and made to clean the hoof them 🙂
Our little has made language also a very good jump. He knows now even more words and if you listen closely and adapts to its emphasis on even you can understand it.
Pants for example sounds like Hosszze, or how I always understand José only without the long "E" at the end of 🙂
What he accurately recognizes and can name is ice, but it's also no big surprise in this family 🙂
Just the great is a bit worried us. He is already 2.5 years "an"accident"dry, but since Berlin he has almost every night. We are that time keep an eye and if necessary go to the doc. Perhaps it is the local change, I had to fight on the first day in Berlin with the circuit. 🙁
Is top again only by the timing, because Mika sleeping pretty reliably through at the moment, would be yes then too nice, if that two children so would be…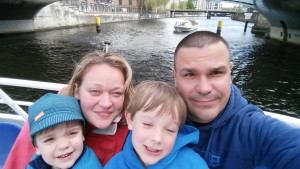 I can no longer fall asleep, awake since 3:03 am and lie on the sofa. Well here are a few pictures (hopefully poops the server don't back off.)
PS: To the late hour, just reminds me that Yes now "tomorrow" is so good, the mothers out there for mother's day! 🙂